AN 8 DAY FISHING ITINERARY
Nile Perch Fishing in Lake Victoria Uganda is incredible!! The Ssese Islands, a small cluster of over 80 islands off Entebbe, Uganda, are an untouched paradise. Most are uninhabited except by itinerant local fishermen, and are covered in thick, tropical forest home to monkeys and birds. Fish of over 80 kg have been caught. The main method of fishing in the lake is trolling with lures, although fly fishing has been tried as has live bait. Apart from the Nile perch, local tilapia of up to 5kg has been caught on bait. In the Nile river, below Murchison Falls, the fishing is normally with live bait, and apart from perch, catfish of over 50kg are often caught.
Day 1
Your arrival at Entebbe International Airport, you will be met by your safari guide who will transfer you to your hotel in Kampala. Overnight at Hotel Africana/Speke Hotel (BB)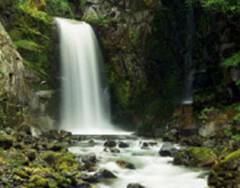 Day2
After breakfast, you will drive from Kampala through Uganda's rolling green hills to Murchison falls National Park. In the late afternoon we will descend to the base of Murchison falls themselves and fish the evening for three hours. A relative level of fitness will be required as the decent is relatively steep. In the dramatic pools below the legendary waterfall we will be targeting the large Nile Perch which can have been caught in these waters over 100 Kilos. We will then return to the lodge for dinner and overnight.
Overnight at Paraa Safari Lodge/Red chilli camp (FB)
Day3
This morning you will fish the river Nile by boat below the world renowned Murchison falls for the Nile perch and other species several of which can be taken on a fly including the Awaka a small tiger and the Ungara.
You will spend the whole day fishing from the boat and the shore. The boat trip is also excellent for game viewing as you will be fishing in one of the best game areas on the Nile which can prove very exciting at times. Overnight at Paraa Safari Lodge/Red chilli camp (FB)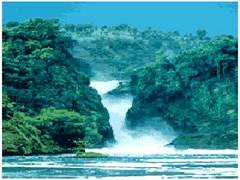 Day4
Today we will fish the big pools below the falls with lures, live bait and flies for the large perch. Again there are other species that can provide excellent sport. We will take a picnic and plenty of cold drinks and spend the day on these magnificent pools. Overnight at Paraa Safari Lodge/Red chilli camp (FB)
Day 5
After breakfast, you will take a boat and go for fishing on Lake Victoria and over night at G&C's tented Camp on Ngamba Island. F/B.
Day6
Spend the whole day Victoria on all the neighboring Island of Lake Victoria returning to Entebbe in the evening and over night at Boma Guest house. F/B.
Day 7
After breakfast, transfer to the airport to catch your flight back home depending on international flight departure times.
to later catch your flight back home.