Sarova Mara Camp
Located inside Masai Mara Game Reserve having 75 tents with permanent floors and roofs including private bathes hot or cold running water and electricity Facilities: A restaurant and 2 bars.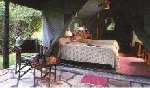 Swimming pool, Hot air balloon safaris followed by a champagne breakfast in the wilderness.
Treetops
It's located in the Aberdare National park 17 km from Outspan Nyeri. The lodge rises straight out of the ground on stilts and has four decks and a rooftop viewing platform. Being the original tree lodge, Treetops is legendry for its royal connection and the animals it attracts i.e. Rhinos, Elephants, Buffalos, Bushbucks, Waterbucks and many other species.
Voi Wildlife Lodge- Tsavo East
This beautiful lodge is right within the boundaries of the mighty Tsavo East National park. Accommodation: The lodges offers 20 large beautifully furnished & decorated rooms. 4 family ro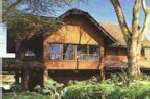 oms cum suites and special rooms for handicapped. Facilities: A swimming pool with Jacuzzi, Breezy romantic well ventilated open air restaurant "The Tembo" restaurant with a capacity of 200 people. Sundowner bar, "Mandari Bar" with a view of the game park.

Outspan
Located 1 km from Nyeri town, Outspan is a comfortable hotel, set in a well tended tropical garden with views of Mount Kenya. The 45 rooms are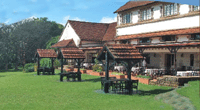 spacious and air, most with fire places and garden access. Outspan serves as a base hotel for Treetops, guests check in and have lunch before departing for Treetops.
spacious and airy, most with fire places and garden access. Outspan serves as a base hotel for Treetops, guests check in and have lunch before departing for Treetops.
Ol Tukai Lodge
Located inside the National Park having 80 twin rooms with a view of Mt. Kilimanjaro Africa's highest mountain. Facilities: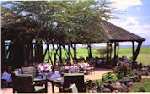 The elephant Bar offers a wide range of cocktails while watching elephants frolicking or gracing in the Wilderness, Also pool bar has a wide range of snacks and drinks. Acacia tree shaded swimming pool, Board game are available, daily lecture from the elephant research station.
Mara sopa Lodge
located in Maasai Mara Game Reserve. The lodge has 200 beds with only 77 rooms, 12 suites and 1 Presidential suite, all of which are 'rondavel' style and have en-suite bathroom facilities which provide shaving sockets and hairdryers. Every room and suite has a private, elevated verandah with splendid views across the valley and on which guests can relax, sunbathe and watch resident birds and wildlife. Mini-bars are also available in each room
Mara Serena
set on the saddle of a hill where it overlooks the 1800 square Km of rolling plains, woodlands, and rivers that make up the masai Mara triangle. Accommodation: 74 rooms, pool. Breakfasts, cocktail parties and dinners on the terrace overlooking a waterhole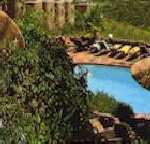 where big game come to feed. Hippo pool breakfasts. Evening entertainment includes musicians, Masai dancers, wildlife films, and talks given by resident naturalist.

Mara Fig Tree Camp
On the banks on Talek river, on the periphery of Maasai Mara Game Reserve, About 270 Kms from Nairobi. A 140 - beds in permanent luxury tent each with twin beds. Facilities: Two bars, an open air dining area and a tree house coffee deck. A video room guest lecture room, swimming pool and curio shop, Balloon Safaris and Game drives.
Kilanguni Lodge- Tsavo West
located in Tsavo west National park. 37 Kms form Mtito Andei the nearest town. Altitude 850 metres. Accommodation: The lodge provides 56 rooms (5 suites and 51 standard rooms). All rooms Fans/Mosquito Nets/Power points/Hot water. Showers, balcony and Laundry services.
Amboseli Lodge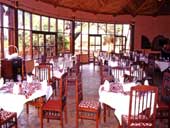 It's in Amboseli National Park Accommodation: 36 traditional cottages & 76 modern accommodation units all well spaced in beautiful gardens. Rooms have bathrooms and are surrounded by an electric fence. Facilities: Swimming pool with full view of Mt. Kilimanjaro Nightly traditional Masai dances. Main restaurant & 2 Bars
Amboseli Serena Lodge
Situated in Shadow of Mount Kilimanjaro, the lodge is at the centre of Amboseli National Park. Guest rooms, individually appointed with authentic Africana and murals painted by a renowned local artist, convey a distinctive Masai Manyatta mood. Traditional feasts and tribal dancing overlooking the waterhole where big game gathers. Swimming pool.