TSAVO WEST NATIONAL PARK
The park is located approx 230kms from Nairobi off the main Mombasa-Nairobi road and has three rivers flowing through it; the Galana, the Athi and the Tsavo attracting large concentrations of game including buffalo, rhino, giraffe, zebra, lion, leopard, cheetah crocodile and many varieties of antelope.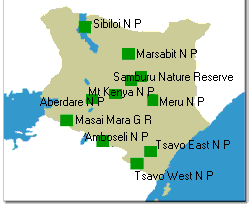 In the northwestern corner of the park is Shetani Lava Flow, a massive lava bed created by an eruption in the Chyulu Hills where the raw cone at the centre can still be seen. Rain falling in these hills is purified as it soaks through the porous volcanic ash , running underground for 50km, resurfacing at the lush Mzimba Springs, which is one of the parks main attractions. This is haven to crocodiles and hippo and a waterhole for a large variety of other game
ABERDARE NATIONAL PARK

The Park is part of the Aberdare Mountain Range which forms the steep eastern edge of the Rift Valley. It lies approx 180kms north of Nairobi and has an altitude of 7,000 to 14,000 ft. The scenery in this region is spectacular and impressive as is the range of wildlife. Due to the dense forest vegetation, you will need to do some searching for the wildlife, but there are also many purposes built game viewing lodges. Game to be found in the park includes; elephant, lion, black rhino, waterbuck, gazelle, giant forest hog, genet cats, leopard, buffalo and the rare spiral-horned antelope known as the bongo.
Accommodation:
includes two loges, Treetops and the Ark which both provide night game viewing facilities. There are also three self-catering sites.
TSAVO EAST NATIONAL PARK
This is one of Kenya's oldest and largest parks, but huge areas, mainly to the north of the Galana River, are completely closed to the public. The southern accessible area of the park includes the Kanderi Swamp and the Aruba Dam on the Voi river and has large concentrations of game including hippo, giant crocodiles lion, leopard, waterbuck, kudu, zebra and ostrich.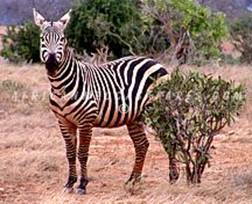 It is also home to the largest herds of elephant in Kenya, usually covered in red dust. The park provides for excellent photography with it's spectacular views such as Mudanda Rock and Yatta Plateau.
SAMBURA & BUFFALO SPRINGS
The Samburu and Buffalo Springs National Reserves lie northeast of Nairobi halfway to Lake Turkana and cover an area of approximately 300 sq kms. The area is arid and largely semi-desert, but has a large concentration of game including some species not found elsewhere; such as the oryx,, gerenuk, Reticulated giraffe and grevy's Zebra. Other game includes ostriches, elephants and leopards who are lured into the lodges with bait, so the tourists can get a glimpse.
Accommodation:
In Samburu accommodation consists of two lodges ; the Samburu Lodge and the River Lodge. And in Buffalo Springs there is the Buffalo Springs Tented Lodge:
NAIROBI NATIONAL PARK
Nairobi National Park is only 20 minutes drive from the city and is ideal if you only have a stopover in the city and want to experience some of Africa's game. Because of it's location, there are many visitors, both tourists and residents but you are guaranteed to see an abundance of game, seemingly unaware and unafraid of humans. The elephant is the only one of the 'big five' not found here, but leopard, lion, buffalo, rhino, giraffe, hippo, crocodile, antelope, wildebeest, eland, zebra and Thompson's gazelle as well as many other species are here in abundance. At the western end of the park is an Animal Orphanage, dedicated to young animals who are injured or deserted in the wild. Here they are studied and cared for until they can be returned to the reserve.
There are no accommodation facilities within the park as it is located so close to the city centre.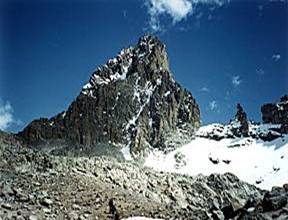 MOUNT KENYA
The National Park lies approximately 176kms northeast of Nairobi and covers an area of approximately 700 sq kms, with a landscape consisting mainly of forest and bare rock. Mount Kenya is an extinct volcano straddled across the equator, and is Africa's second highest peak. The altitude ranges from between 11,000 to 17,058ft, with the highest peaks being Batian at 17,058ft and Nelion at 17,022ft. These are regularly climbed by experienced climbers though very few actually make it to the top. The more popular peak for climbers is the easier Lenana which reaches a height of 16,354ft. and can be climbed without the use of specialist equipment. Climbers are often accompanied by a guide, with ports being available. There are climbers huts is rest up in, but plenty of food and warm clothes should be taken with you. The best time of the year for climbing is from mid-January to late February and from late August through September
The scenery is stunning and quite breathtaking. It is also a botanist's paradise, with a wide variation in flora as the altitude changes. The region is home to a variety of wildlife including some unique species, such as Black and White colobus and Sykes monkeys, bushbuck, buffalo, elephant, Olive baboon, waterbuck, black rhino, leopard, hyena, bongo and at high altitudes zebra and eland can be found.
Mountain Climb...Mt. Kenya
The "Classic" Route (Up Sirimon / Down Chogoria) - A must for lovers of high altitude trekking. Designed for optimum time on the mountain to acclimatise, as well as getting away from the bulk of hikers. It is run as a camping trip - with all equipment supplied. Top quality mountain tents, thick mattresses, campstools, rain awning, good food, a cook, and qualified guides are supplied, as well as a porter for your pack
MERU NATIONAL PARK
The park is situated approximately 360km northeast of Nairobi and covers an area of 870 sq kms. This park was the setting for Joy Adamson's book "Born Free" and it remains one of Kenya's most unspoilt parks. The scenery is varied, wild and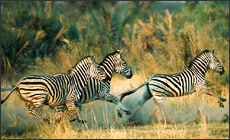 beautiful, from woodlands at 3,000 ft on the slope of Nyambeni Mountain Range to wide open plaints with many rivers running through. Game found here includes; lion, cheetah, leopard, elephant, antelopes, and buffalo. In the many rivers hippo and crocodile are found in abundance. You may be lucky to spot Kenya only colony of the rare white rhino. There are several other parks which can be visited from here within a day, they include Bisandi National Reserve, Kora National Park, Rahole National Reserve and Mwingi National Reserve.
Accommodation:
Meru National Park has a number of Lodges and campsites that need to be pre-booked and one public campsite.
MASAI MARA GAME RESERVE
The Masai Mara is regarded as the most favorite and is definitely the most popular game reserve in Kenya, having over 140,000 visitors per year. The reserve lies approx 270km west of Nairobi and covers an area of approximately 1,510 sq km, bordering with the Serengeti National Park in Tanzania. The landscaped is mostly open Savannah grasslands and acacia shrubland.
Starting any time from late July the wildebeest follow the rains and grazing to the wide and open grasslands of what has become known as "the Mara". They may be late, but they will always make the trip, driven by dry conditions in the Serengeti and led by the lightning and thunder to the north. Come November they start the homeward leg, bound again for the Serengeti.
At this time of the year you will see a large number of lion, hippo, crocodile and vultures all of which prey on the weak and young migrating animals. Other game to be found in the Masai Mara at any time of the year include; elephants, cheetahs, baboons, gazelles, giraffes, jackals, cheetahs, leopards, hyenas, water buffalo, ostriches, and a large variety of antelope and birdlife.
MARSABIT NATIONAL PARK
The Marsabit National Reserve lies in northern Kenya in a densely forested mountain park, being home two beautiful crater lakes. The park was once famous for it's large tusker elephants but that was before the poachers slaughtered most the large ones. Elephants are still in abundance along with large herbs of kudu and many birds of prey.

Accommodation:
The Park has a lodge and camping facilities.
LAKE NAKURU NATIONAL PARK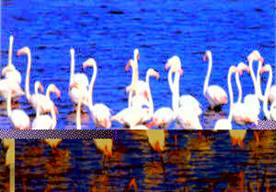 The park entrance lies 6km from Nakuru town and the main attraction is Lake Nakuru, a shallow alkaline soda lake set beneath the high cliffs of the eastern Rift Valley. It is an ornithologists' paradise offering the spectacular view of up to 2 million flamingos at one time (during the season) along with hundreds of other species including birds of prey. An area of 190 sq km around the lake is fenced in as a national park and has been made a sanctuary for Rothschild giraffes and black Rhinos.
AMBOSELI NATIONAL PARK
Amboseli National Park, although small, at approx 395 sq km, is one of Kenya's most popular parks. The views of Mount Kilimanjaro, Africa's highest peak, coupled with the variety of game to be found, draws the visitors in. The park which lies approximately 140kms south of Nairobi on the border with Tanzania, is most famed for its' large herds of elephants. A combination of drought, increased tourism, and over-grazing has had a hard-
hitting effect on the western side of the park, the land has become dry, dusty and barren and the animals that were once there have moved into areas of shrub forest and marshland.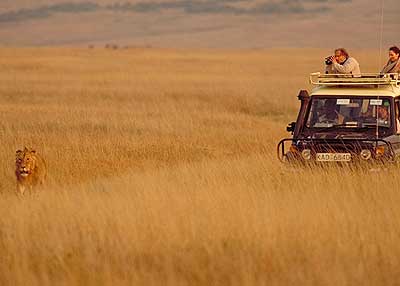 Accommodation:
inside Amboseli National Park Accommodation: 36 traditional cottages & 76 modern accommodation units all well spaced in beautiful gardens. Rooms have bathrooms and are surrounded by an electric fence. Facilities: Swimming pool with full view of Mt. Kilimanjaro Nightly traditional Masai dances. Main restaurant & 2 Bars